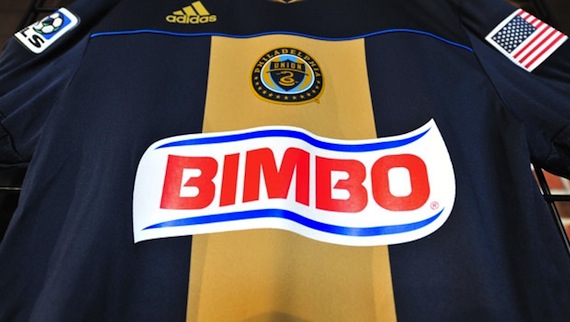 Yes. Before you ask yourself if this jersey is real, or just a leak, it is indeed the Union's 2011 home jersey.
On Chivas Guadalajara, Club America and Monterrey's Jerseys, this logo looks alright, partially because the people supporting these clubs know that "Bimbo" is the name of the Mexican food processing company. This is not to say that MLS supporters are ignorant of this fact, but rather with the red, white, and blue of the Bimbo logo and the navy and gold of the Union's jersey, this logo invites insults.
Hans Backe's Viking Army (of the NY Red Bulls) have recently adopted two songs directed at Philly because of this: BIMBO (to the tune of Bingo, was his name-o) and the more chant-like "Sons of Bimbo, clap, clap, clap-clap-clap."
Yes, the Red Bull logo of the Red Bulls has come under some attack for taking up the whole shirt of the New York-based team, but at least the colors don't run. C'mon Philly phans, what do you think about this marketing move?