As Man U appear to wrap up a 19th title, AC Milan, Porto, and Dortmund have all clinchedtitles in their respective leagues, with Lille and Barcelona waiting in thewingsto lift their trophies. Man City clinched the last Champions League spot in England, making the only worthwhile matches in England involving West Ham, Wolves, Wigan, Blackburn, and Blackpool, aside from those involved with the Championship Playoffs, with QPR now avoiding point deductions and Norwich pushing out the other teams for 2nd.
It is in this point that I have questions for the FA about the proposed point deductions: When Faurlin joined in 2009, why would investigations have not have started then? Why also would you tack a point deduction on after a team had believed that they had clinched the 1st place position/promotion? Asthis controversy fades because of the lack of any point deduction and the controversy of Qatar buying FIFA votes, the MLS is running into its own controversy, more related to that of player conduct.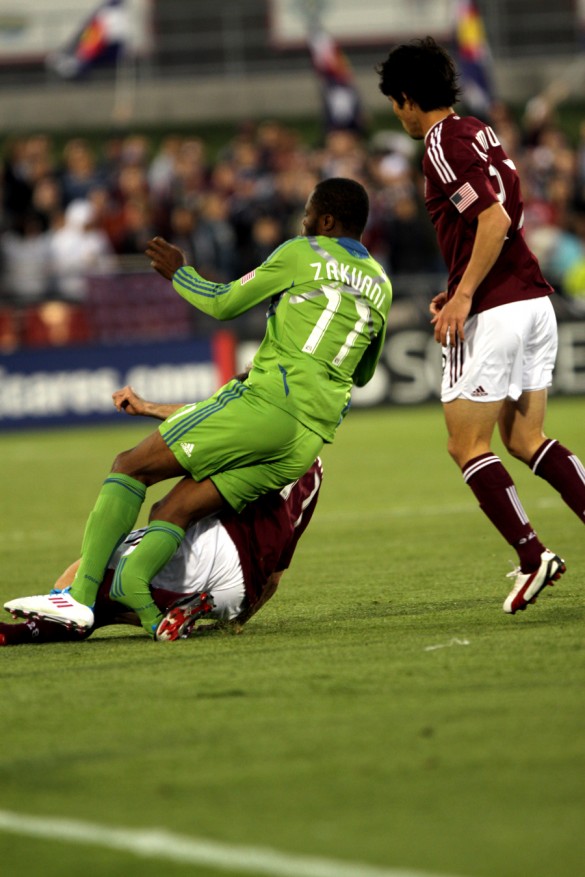 Colorado Rapids midfielder Brian Mullan and Chivas USA forward Marcos Mondaini, amongst others, are coming under attack of MLS fans for near-season ending injuries to Seattle's Steve Zakuani and RSL's Javier Morales, respectively. Watching these challenges are not for the squeamish, and the punishments are not either, with Mullan receiving a 10 match ban.
One must consider what else can be done to prevent these kinds of tackles, which you may have noticed are occurring on playmakers of teams. It is strange to look at this and see that Red Bulls' DP Thierry Henry has yet to be fouled in 6 games. This point aside, should the MLS enact rules similar to that of the NFL to protect offensive players from hard fouls?